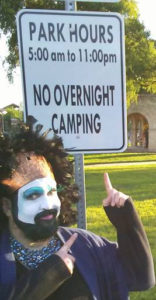 With a heart full of joy, I'd like to announce that Just One Night raised $3,700 in its inaugural year to benefit the organizations Thrive Youth Center and StandUp for Kids – San Antonio.
The weather turned a bit colder than we like here in San Antonio, (48 degrees may as well be snow as far as we are concerned) but my registrants were real troopers and they did exactly what they said they would… they slept in the park for the night in the hopes that the kids these organizations help will have a better tomorrow on the horizon.
During the night, I found myself musing on the fact that we, people who have homes, jobs, and security… were permitted to sleep in the park overnight with an officer to watch over us for protection. But the homeless youth we were working to help? They would have been chased out of the park and made to move on by the very same officers. The strange irony of that fact was not lost on me.
I just got done sending out the thank you notes to all that donated. If I had your physical address, I sent an actual letter and you got a little something extra coming your way just to show my appreciation for your support in this first year. I couldn't have done any of this without you.
To all the supporters, near and far, thank you for helping to turn Just One Night into a reality. Ultimately, this is not a "one and done" for me. I care deeply about this topic because of my own personal history. So now that I've proven that it CAN be done, I need to set about proving that it can be GROWN. So a bit of a deep breath and moment to relax, and then onward and upward, my dears.